The Art of Clown workshop
Mike Funt is not an unfamiliar name in Newnan, Georgia. Funt grew up in Newnan and got his start working at the Newnan Theatre Company. Now he returns to his hometown to share his expertise in a unique, intensive workshop in Clown Performance at the Newnan theatre Company, March 5th and 6th from 7:00pm-10pm each night.
In this exclusive intensive, explore performance methods that are ancient and modern at once. The class pays tribute to everything from indigenous clown rituals to the commedia dell'arte to the great era of the silent film comedians to the clown's modern-day renaissance on stage, in film, and at the circus.
Through his work at The Clown School in Los Angeles, Funt believes the clown is a natural part of everyone's life, but one that has often been overlooked or pushed down. Mike Funt's Clown Intensive allows your clown to burst out of you, to give license to your spontaneous, fearless, and playful self.
"The clown is an iconic figure, and it lives inside your body: silly, profound, and eternally mischievous," says Funt. "Let go of your fears. Have some fun. Come and play with us."
Mike Funt is the Artistic Director of the internationally-touring, multi award-winning clown troupe Four Clowns. Additionally, Funt travels the world leading workshops in clown, mask, and circus arts, and has taught workshops in places like China, India, Japan, and all over the United States, with his home base at The Clown School in Hollywood. Funt's clown experience includes work with Philippe Gaulier, Aitor Basauri, Stefan Haves and John Gilkey of Cirque du Soleil, Avner the Eccentric, Aziz Gual, and instructors from Ringling Brothers. He has also studied with play expert Dr. Stuart Brown and trained extensively in Laughter Yoga with Dr. Madan Kataria. He formerly taught at the San Francisco Comedy College and served five years as head of the Theatre Department for the Georgia Governor's Honors Program.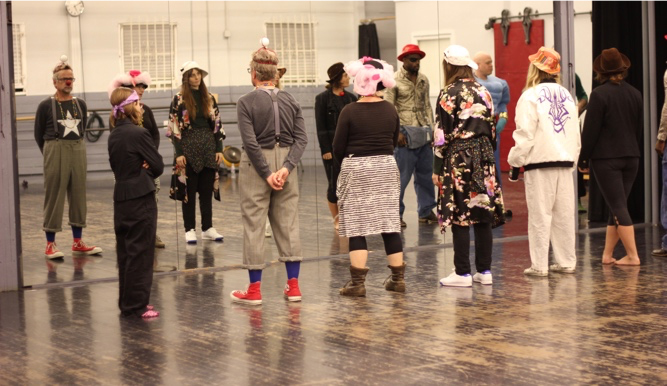 Students will work through improvisational exercises that focus on the connection with the audience as well as deep emotional connectivity; work through exercises in which students have time to prepare work in groups and be critiqued; learn about the history of various forms of clown as well as the ubiquity of the clown figure in modern performance; experience our unique classes, which have been designed to inspire actors, performers, improvisers, comics, and anyone who dares to let go and go deep; Perform exercises and improvisations that are carefully constructed to build skills and techniques that are applicable to many differing performance venues and disciplines, including stage, on-camera, comedy, improv, circus – and of course, life; receive individual attention and targeted challenges from a world expert in the art form; engage in classes that are disciplined, rigorous, and great fun.
The Clown School (www.theclownschool.com) offers the highest quality of clown training to actors, performers, comedians, and participants from all walks of life, including doctors, teachers, healers, film-makers, and students. We've won widespread acclaim for our classes, described as "truly spectacular and unforgettable" in the LA Stage Times and "unbelievable – the best work I've ever seen" by comedian June Diane Raphael.
The workshop will be at the Newnan Theatre Company on Monday and Tuesday, March 5-6, from 7:00pm-10:00pm each night. The cost to attend the workshop is $100. To register, contact the Newnan Theatre Company at (770) 683-6268. This workshop will sell out, so please reserve your place in advance.